The Cenotes of Mayakoba is an exploration project dedicated to the discovery and documentation of a series of submerged cave systems that exist below Mayakoba, a prominent and beautiful resort in the northern part of the Yucatán Peninsula of Mexico.
The outcomes of the Cenotes of Mayakoba project so far are a 200-page art book containing incredible images, maps and text about the project, and a documentary film. The project has three primary goals:
To raise awareness of the Yucatán Peninsula's natural environment and unique cave systems, promoting environmental conservation of this precious and fragile land.
To expand knowledge of the caves here at the property, and to create a greater appreciation of their unique value among visitors.
To raise funds for cave conservation and water quality work our team is conducting in theYucatán Peninsula, through donations to our non-profit funding partner Project Baseline, where all proceeds will support our team's work in the region.
This project was conducted by Team Proyecto Mayakoba, composed of our multi-disciplinary team of Project Leader Matt Scantland, alongside project members Ivo Chiarino, Henry Frawley-Fulcher, and SJ Alice Bennett. Our filmmaker was Eric Heiland.
The project is possible with the enthusiastic support of Rosewood Hotels and Resorts, RLH Properties, perhaps the first properties in the area to support a conservation project of this type, and Matt Scantland, who provided funding for the project.
Partners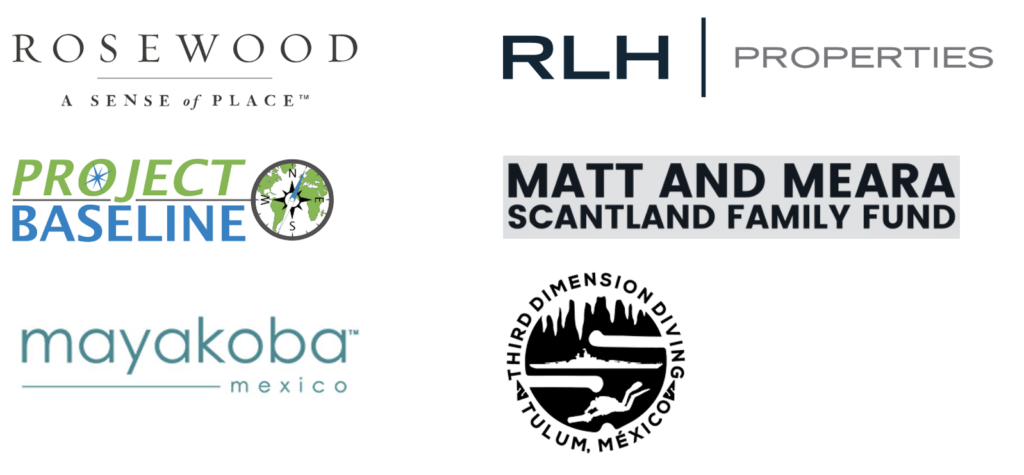 The Area
The Yucatán Peninsula is home to a vast collection of cenotes, beautiful sinkholes in the ground that open to reveal pristine pools and rivers beneath. In ancient times, these sites were used by the Maya for gathering water and performing rituals, and today they are a critical part of sustaining the ecosystem of the area, and nurturing the crucial Mesoamerican reef.

Beneath the cenotes, groundwater flows through massive passages and narrow caverns, a complex network of underwater caves, as it makes its way towards the Caribbean Sea. Dry in the last ice age, these now flooded caves are decorated and sprawling, a hidden matrix consisting of hundreds of kilometers of interconnected passages.
Mayakoba, located just north of Playa Del Carmen, has some of the most unique and beautiful caves systems in the area. These caves were found and revealed through this project and can now be seen for the first time.
Please consider making a donation, or getting in touch by sending email to info@cenotesofmayakoba.com.